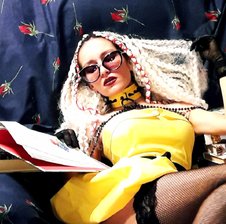 DELICIOUSandFETISH
Sledovať
Upozorniť, ak online
Táto modelka je
Online
Offline
38, Blíženci, Passion, Dream
Posledné Prihlásenie:
30.11.2023 17:52:56
























Dôležité detaily používateľa
DELICIOUSandFETISH
| | |
| --- | --- |
| Sex | Žena |
| Zaujímam sa o | Muži |
| Vek | 38 |
| Výška | 151 - 160 cm |
| Hmotnosť | 40 - 45 kg |
| Vlasy | Bruneta |
| Oči | Zelené |
| Etnický pôvod | Biely/Kavkazan |
| Jazyky | Angličtina, Ruština |
| Rodné mesto | Dream |
| Ochlpenie | Vyholená |
| Poprsie | Stredné |
| Zadok | Stredné |
CUMMING from delicious food and drink! I love nylon, high heels!!! And I'm not a "white and fluffy kitty" at all, I'm a DOMINANT woman!
Hi! Glad to meet you!
Today is my first time Here. I'm new to the Site.
I am a very positive and optimistic woman, I spend a lot of time traveling, I create designer (author's) jewelry from natural stones / minerals.
I just love delicious food!!! For me, eating and drinking can be VERY sexy
I collect UNUSUAL cocktail recipes. Be sure to share with me if you have one)))!
I also collect stockings, tights. I WILL DEFINITELY INTRODUCE YOU TO MY COLLECTION OF hosiery beauty on my legs.
I love high-heeled shoes and interesting fetishes, ART erotica and ASMR.
I'm also a writer. For several years I have been writing articles, my book, conducting research on FETISHES, as well as their impact on life. I will be GLAD to discuss this with you and find out YOUR opinion ...)! This is the main purpose of my appearance on this site.
welcome!

I 'm too VERSATILE and there will be:
- eroticism and seduction
- foot and nail fetishes, NYLON, slender legs
- role-playing and domination
- art and art house, ASMR
- and of course, there will be a LOT of communication with you! Because your opinion and THOUGHTS are very IMPORTANT to me!

IMPORTANT!!!
1 - RESPECT me and my principles. Rudeness and disrespect are UNACCEPTABLE!
2 - Do not copy, download, and, moreover, do not distribute my PERSONAL photos. And all the photos published here are my personal ones and I am against their distribution by anyone other than me. I do not give my permission to copy or distribute all my photos and videos published by me.
3 - I am a living person and a PERSONALITY. With diverse interests and knowledge. I want you to be INTERESTING to ME, too.
4 - I'M NOT SELLING MY BODY! But my time is my most valuable resource.

I'm NONUDE !!!!!!!!!!!!!!!!
DISRESPECT to me! I'm not selling my body!!! But my time spent with you costs money...
Pracovná doba DELICIOUSandFETISH
Amatérske klipy používateľa DELICIOUSandFETISH

30 žetónov
1:12

30 žetónov
1:51

99 žetónov
1:42

80 žetónov
1:50
80 žetónov
1:30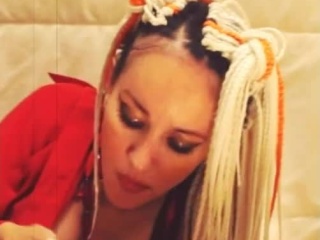 Bezplatne
1:00

333 žetónov
1:29

80 žetónov
0:30

120 žetónov
1:36

300 žetónov
1:07

270 žetónov
2:25

44 žetónov
1:14

170 žetónov
1:30

270 žetónov
0:44

666 žetónov
1:55

300 žetónov
0:54

200 žetónov
2:05
Zoznam želaní užívateľa DELICIOUSandFETISH
1

I WANT to SEE Madagascar and lemurs
This is a UNIQUE place on our Planet...
Prečítajte si viac
2

I want to buy a golden pylon to dance whenever I want...
Prečítajte si viac